SEO stands for Search Engine Optimization. Today, SEO has become an integral part of any digital marketing strategy for every industry and product. SEO determines the visibility of a website in the search results by any search engine. SEO analyses how search engines work, what people are searching for, the keywords in these searches and who are the target audience for which searches. With this analysis, the ranking and visibility of a website is determined among-st the relevant search results.
Let's go over the reasons that make SEO imperative for any internet marketing strategy: 
1. Increased Visibility  
Just creating a website is not sufficient today. The consumer must also be able to find your website easily. Good visibility on the search results help direct the customers to your website easily. This is done by using keywords relevant to your target audience, through which the website is optimized by the search engine and can be viewed in the top search results.
2. Promotes Traffic 
Once the website become visible in the top search results, the traffic is directed to the website as more and more people from the target audience click on it. This is done with the help of keywords relevant to the focus audience and their search patterns.
3. Analytics   
With SEO the results can be tracked and quantified which helps in providing the insight for return on investment (ROI) for any and every kind of website, whether ecommerce or non-ecommerce. It also provides an in depth analysis of the performance of your digital marketing strategies and how the website's visibility can be improved.
4. Organic Traffic 
 While the Ad's are a paid feature, the website's ranking in the search result depends upon the keywords in its content. This results in relevant and genuine visitors on the website. The correct mix of both the strategies can help a business get more out its digital marketing strategies.
5. Brand Awareness  
When the website is viewed in the top results, it is viewed as a trusted source by the audience, since companies on the first page are generally perceived to be more trustworthy. As  more of your web pages rank in higher positions in the search engines, there is more chances for the users to see your content and associate it with your brand.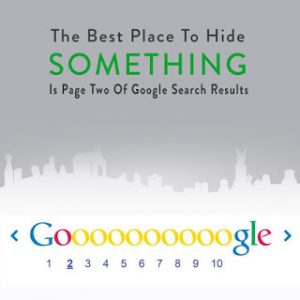 Someone truly said that "The best place to hide something is page two of Google search results, as nobody checks it". This is because people seldom move to pages 2nd and more as the results on the first page are considered by the audience and the traffic gets redirected to these pages.